Growing up, crispy roast pork belly was a dish that my aunts would always order for our special big family gatherings. Because we rarely ate this dish during our ordinary family meals, I had come to associate it with special occasions – much like how people associate Turkey to Christmas (well to a lesser extent but you get the drift…) That's why for years, I've been led to believe that it was very tricky and time consuming dish to make. However, for this year's Lunar New Year, I hosted a dinner party with friends and decided to recreate this dish for my guests. As it turns out, it's actually super simple!
The secret to a crispy crackling is a super dry skin, The use of a salt crust and vinegar to absorb the moisture will make sure that you achieve a crispy texture. Poking a lot of holes into the skin will also help the fat from under the skin to surface and hep crisp it up.
Something that really made a difference for me was learning how to operate the top grill (aka broiler) mode property on my oven so that the meat doesn't dry out when trying to crisp up the skin. Because you'll be blasting high heat on the skin, be careful so that the skin doesn't burn. The skin will bubble up unevenly so I'd advise using foil to cover any parts that risks to burn during the process.
I've managed to successfully recreate this dish many times now. Following this foolproof method, you should be able to achieve that super crispy and fluffy crackling too! Enjoy ☺️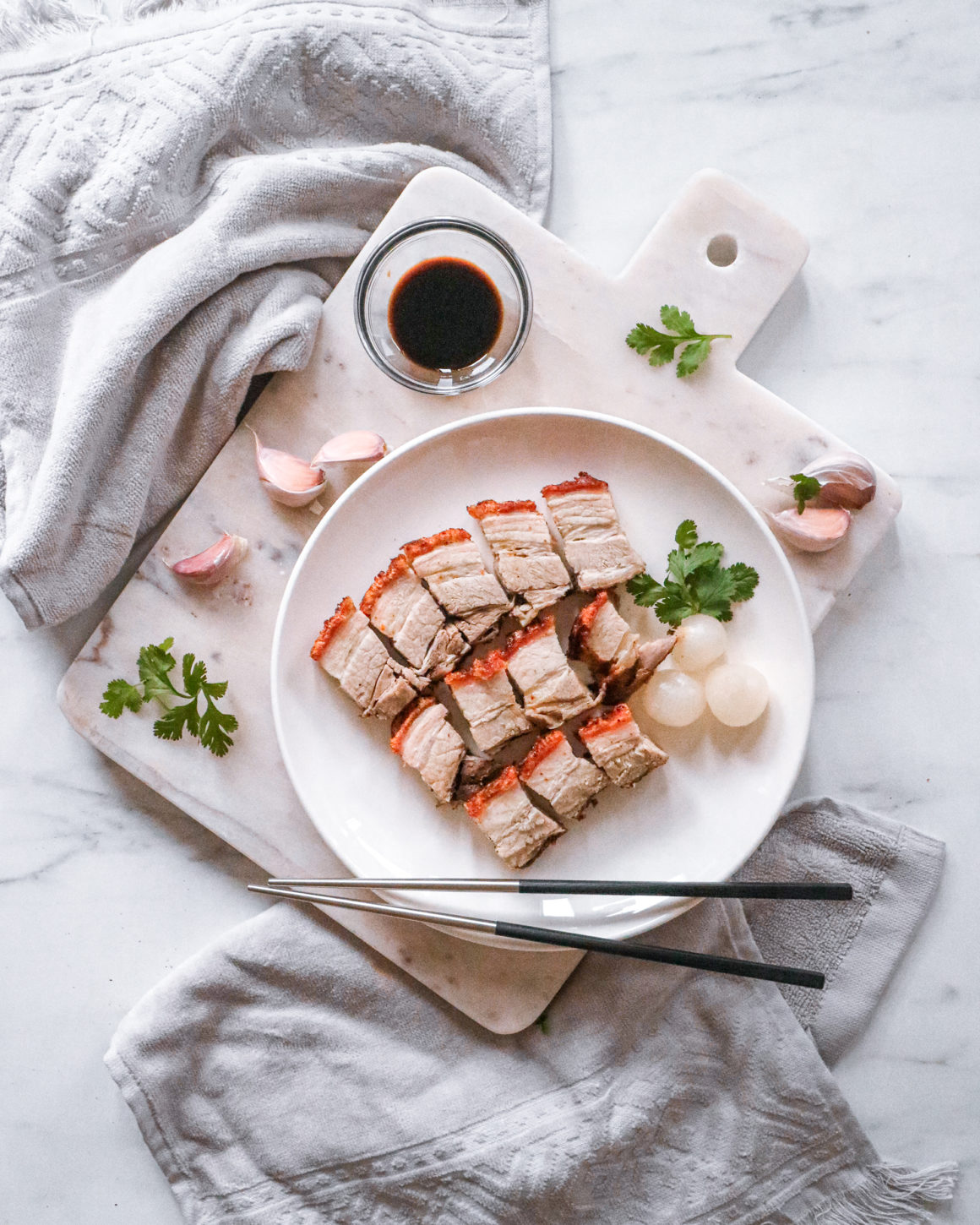 Print
Crispy Pork Belly
Author:

Prep Time:

24 h

Cook Time:

1.5 h

Total Time:

55 minute
Scale
Ingredients
1

kg Pork Belly (make sure that the skin has not been scored)
Rock Salt (enough to cover the whole surface of the pork belly skin)

1 tbsp

White Vinegar

1 tsp

Table Salt

1 tsp

Ground Pepper

1 tbsp

Chinese Five Spice

1 tbsp

Soy Sauce

1 tsp

Sugar
---
Instructions
Blot the skin to remove moisture
Poke A LOT of holes into the skin
Make a marinade for the meat: I mixed together some Chinese five spice, salt, pepper, sugar, soy sauce
Rub marinade into the meat (do not get any onto the skin side)
Brush the skin with White Vinegar
Leave pork belly to rest uncovered in the fridge for 3-12 hours (ideally overnight)
Cover skin with rock salt
Roast in preheated oven at 180°C on fan mode for 1 hour
Take the pork belly out of the oven
Remove the salt crust
Brush the skin with some more vinegar
Put pork belly back in the oven in Medium Grill mode for about 30 minutes, the skin should start bubbling up – watch out or it will burn!
Leave it to rest for a bit, then it's ready to be served

😋
---
Category:

Meat

Method:

Roast

Cuisine:

Chinese
Keywords: Pork Belly, Crackling, Crispy