As an homage to my hilarious whirlwind visit to Osaka this time last year, I've decided to recreate Uncle Rikuro's Jiggly Japanese Cheesecake at home.. This is an easy method to achieve the most PERFECT Japanese cheesecake! The result is CREAMY (like what a cheesecake should be) whilst remaining airy, fluffy and of course JIGGLY! I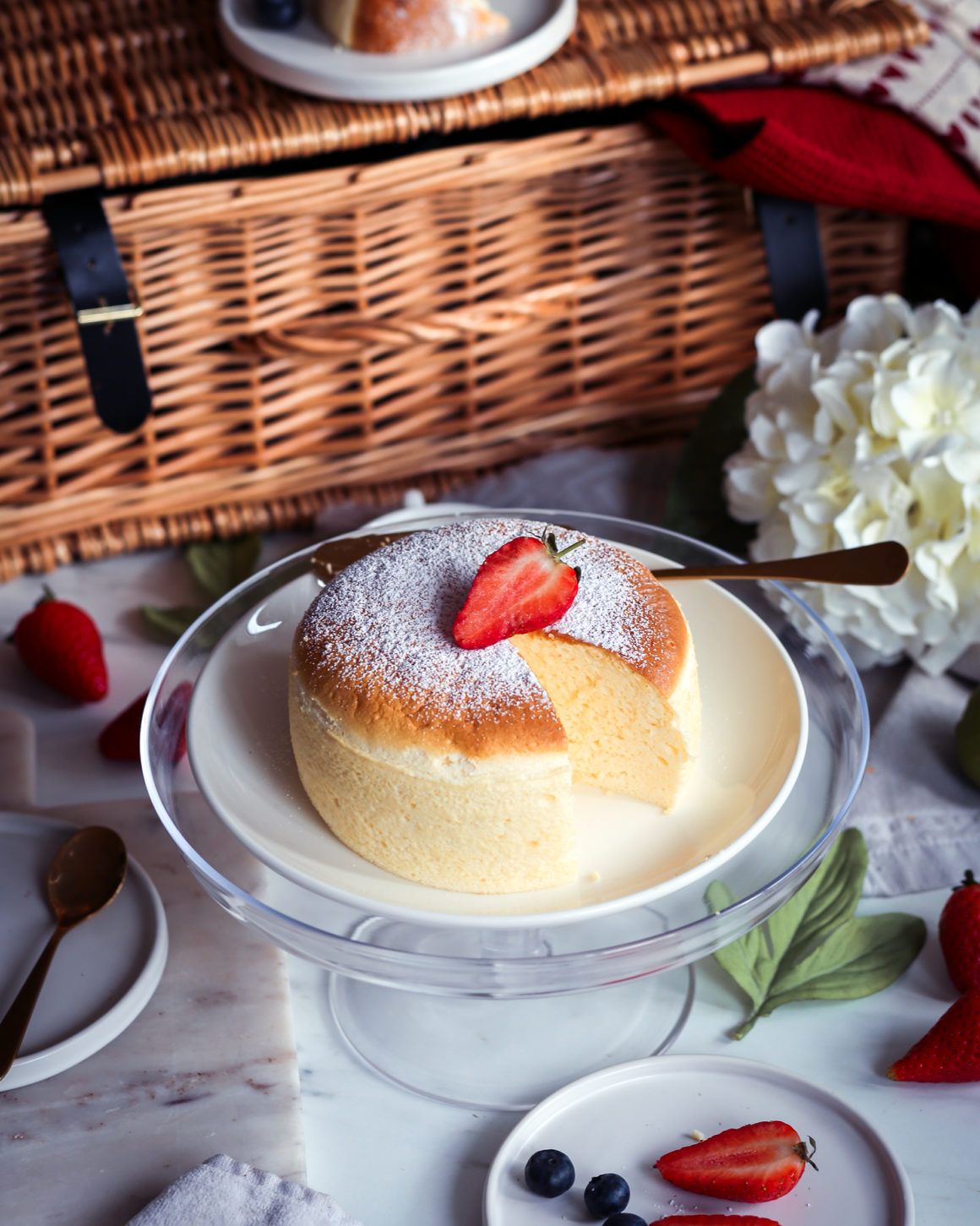 NOTES:
I wouldn't advise using a springform tin (theres a chance of the bottom becoming undercooked / soggy) but if you do, you need to use aluminium to tightly cover the bottom so that the water doesn't go in
The WATER BATH: I omitted to mention in the video, but make sure that the water reach up halfway your cake tin height, otherwise it will be too hot, causing the cake to rise too quickly and subsequently deflate.
The taller the tin, the more jiggly the cheesecake will be!
The oven setting described in the video worked for my oven. You should get familiar with the heat level of your oven and adjust accordingly, if the temperature is too high, it could cause cracks. If you see the cake rise too quickly, it might be worth adjusting the temperature lower.
If you are using a fan oven, make sure to place the tins on the lowest rack, far from the heating source (fan ovens are generally hotter and are more susceptible of causing cracks but my oven is a fan one so don't worry it can work!).
Depending on the size of your pan, if it's significantly larger than the one I used, you may have to increase the baking time for a bit longer to ensure that it's cooked throughout
TROUBLESHOOTING
1. Why is my cake not rising?
Make sure that you have beaten the egg whites properly, if it's under-whipped, it will not rise as well. – Make sure you don't deflate the batter before pouring into the pan. When folding the mixtures together, do so gently
I would advise looking up 'macaronage' methods and using the same hand movement to fold your mixture together. When pouring into the pan, it should still feel fluffy and light, it should not feel too 'liquid'
Make sure that the temperature is correct. Especially if you don't see the top of the cake browning, you should increase the temperature a bit.
There's not enough batter in the tin, make sure you use the appropriate amount of batter for your cake (adjust this ingredients listed accordingly), I would recommend using at least a 3″ tall tin. If the batter is spread too thin, it may not rise as wished and will not jiggle!
2. Why is top cracked?
The oven is too hot, turn it down
You might have over-filled the pan with batter, make sure there's at least 1.5 – 2 cm from the batter level to the top of the pan
3. Why did my cake sink / deflate?
The WATER BATH: make sure that the water comes up halfway to your tin height, otherwise it will be too hot, causing the cake to rise too quickly and subsequently deflate.
Oven temperature: you oven might be initially too hot, causing the outside to cook while the inside is still raw – in consequence, the outer layer will inflate and sink afterwards. Try to lower the temperature of the first phase (try 180 instead of 200 degrees) and lengthen the second phase of 30 mins at 140 degrees to longer
The type of tin, sometimes this doesn't work as well with non-stick tins as the batter has nothing to 'grip' on to hold shape when cooling down this might sometimes cause the cake to sink. My preference, I always buy aluminium pans for baking (they are also better at evenly distributing heat)
Print
Jiggly Japanese Cotton Cheesecake
Description
Simple and easy home cook recipe for Japanese Cotton Cheesecake – inspired by Uncle Rikuro's cheesecake
---
Scale
Ingredients
Ingredients and baking time listed is for a 6″x3″ round tin, adjust measurements accordingly if you are using a different sized pan
60

g Sugar divided into

2

x30g portions

120

g cream cheese

3

eggs (separated into egg yolks and egg whites)

60

ml milk

25

g flour

15

g corn starch

30

g butter

1/4 tsp

cream of tartar (you can substitute with a tiny bit of lemon juice or white vinegar, the acidity helps stabilise the egg whites)
---
Instructions
Preheat oven to 200°C
Separate egg whites and yolks
In a bowl, mix butter and 1st portion of sugar
Add cream cheese and mix
Add egg yolks one by one and mix
Sift in corn starch and flour and mix
Add milk and mix until there are no more clumps
In a separate bowl add the egg whites and cream of tartar, beat while gradually adding sugar until you get stiff peaks – this takes about 5 mins using a mixer on high speed
Sift the egg yolk mixture into the egg white mixture
Gently fold the two mixtures together until well combined
Line your pan with baking paper at the bottom and grease the sides using butter
Pour batter into pan (I wouldn't advise using a springform pan, but if you must, make sure to carefully wrap the bottom with aluminium so that the water doesn't come in)
Prepare a water bath by filling a larger pan with hot water about 1/3 of the volume then place the cheesecake pan inside and transfer to the oven
Bake for 15 minutes at 200°C, then 30 minutes at 140°C then switch off the oven and leave it in there for another 30 minutes.
The cheesecake should now be cool enough to be easily removed from the pan
Sit back, grab a cuppa tea and watch it jiggle
---