Adding to the list of ridiculous things that I try to make after watching too much TV… Saw these on a KDrama episode and decided that I needed them in my life. I've made some American style ones before using polenta (corn meal) and basically replicated the similar process using AP flour and panko flakes instead! 
The result was super quick and easy to make. Remember to eat it HOT, there's nothing more satisfying than that indulgent cheese pull and satisfying CRUNCH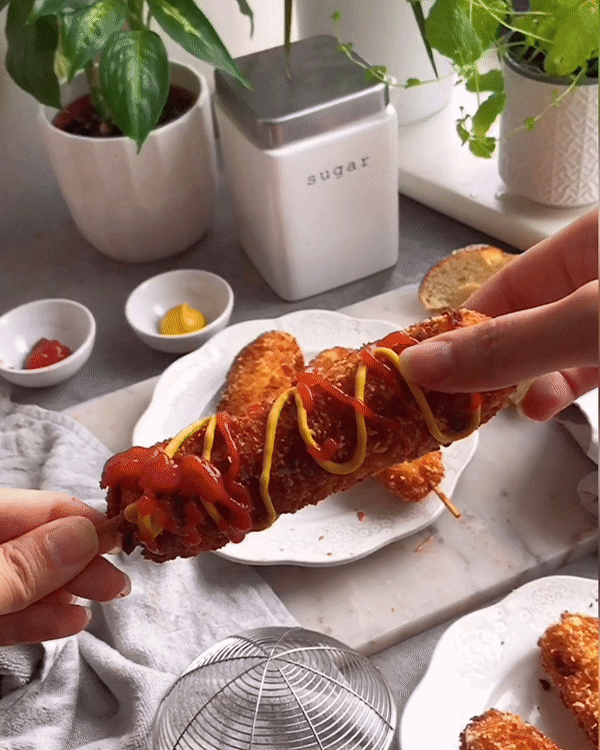 Print
Scale
Ingredients
3

hot dog sausages, cut in half

6

pieces of mozzarella – look for the "cooking" type that are low moisture and sold in blocks. Alternatively you can try with some string cheese as well

150

g flour

100

ml milk

2 tsp

baking powder

1/2

salt

1

egg

2 tbsp

sugar
Panko flakes
Oil for deep frying
---
Instructions
Skewer half a sausage and half a piece of mozzarella cheese
Mix the flour, sugar and baking powder together
Add milk and egg then mix until you get a smooth batter
Dip the skewers into the batter then roll them into panko flakes (TIP: Pour the batter into a glass so that it's easier to dip the skewers into the batter)
In a pan, pour some frying oil – heat it up until it becomes bubbly (~180 degrees C)
Deep fry the corn dog for a few minutes until the exterior becomes golden
Serve with some ketchup and mustard
Note:
Try to keep the cheese dry and cold so that it doesn't leak when you deep fry!
Heat the oil until it's bubbly ~180 degrees C
Apparently you should also roll these in sugar after frying them like the authentic Korean street food version, bit too sweet for me but do give it a try!
---