I've got something to confess, I've actually only made a total of 3 Swiss roll cakes in my life…
The first one was a yule log for Christmas – it was such a struggle and kind of gave up on making Swiss rolls for a very long time.
I however decided to give it another try recently and to my surprise, my second attempt was a triumph! The result was a delicious soft chiffon sponge roll filled with a light and airy whipped cream. The result came out so well and it was so easy to make.
Which leads me to my third attempt, that happens to be the one I've recorded for my YouTube video below. It was super easy to make and the result came out beautifully so I wanted to share with you guys how I did it, and hopefully you'll find it useful as well.
One thing that really helped me was actually to have the right tin, I got a 11" square tin and boy it made the process so much easier!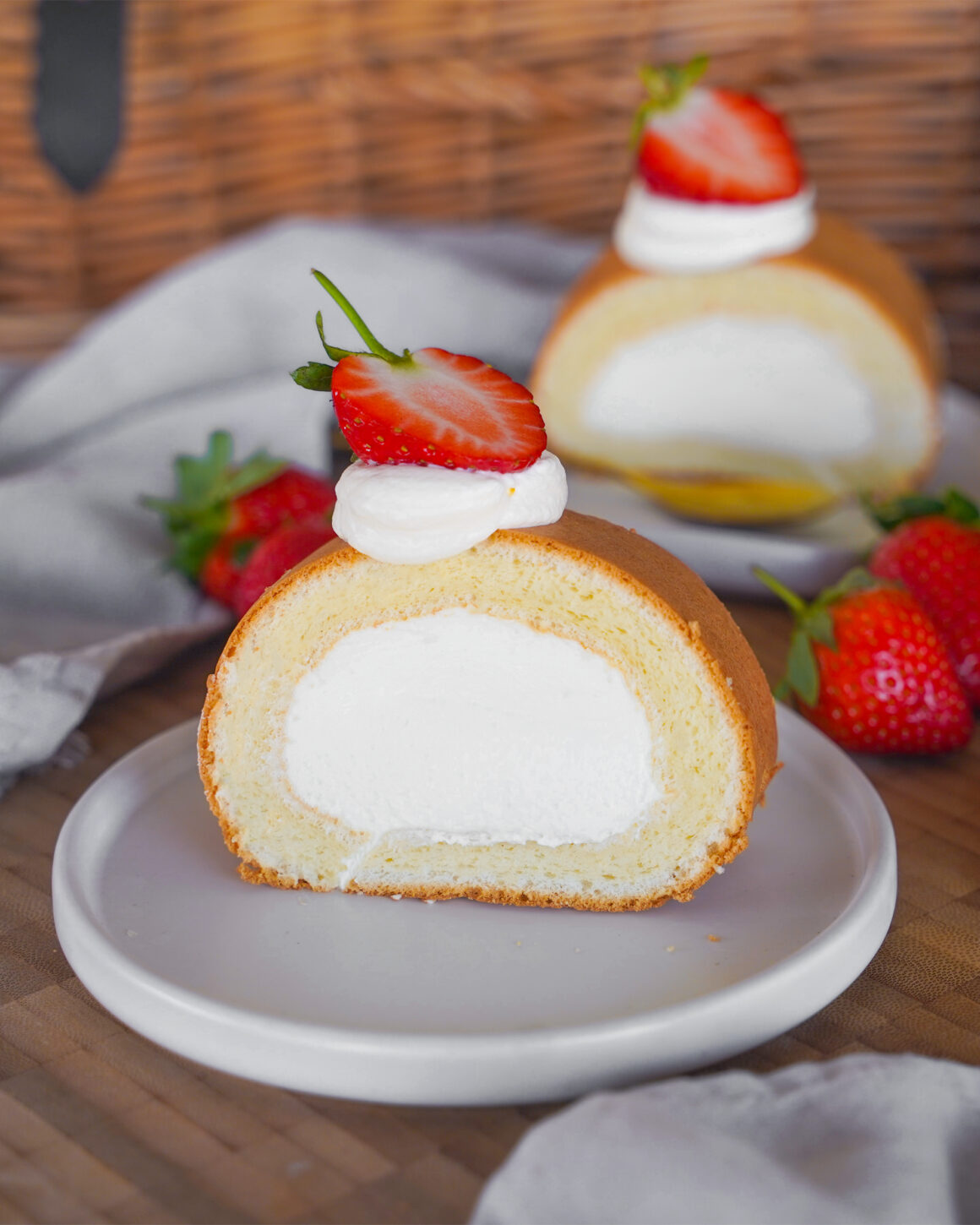 Print
Swiss Roll
The result was a delicious soft chiffon sponge roll filled with a light and airy whipped cream
Ingredients:
Sponge:
5

eggs

100g

flour

100g

sugar

50g

vegetable oil

100g

milk

1 tsp

vanilla extract
Cream  (enough for filling, make more for decoration):
50g

mascarpone

250g

whipping cream

 

30g

sugar
OR
300g

whipping cream

30g

sugar
Strawberries for decoration
Instructions
Preheat the oven to 170 degrees C
separate the egg yolks from the egg whites.
whip the egg whites, when it starts foaming up, we're going to gradually add in the sugar and mix until we get to soft peak consistency
prepare the egg yolk mixture: add in the oil, milk and vanilla extract. Mix it until it's well combined
Add in the flour into the yolk mixture and mix until you get a smooth batter
Gently fold the beaten egg whites and egg yolk mixture together. Try not to over mix and deflate the air that we've incorporated
Pour the batter into a 11" square pan, lined with baking paper
Bake in the preheated oven at 170 degrees celcius for 30 minutes
Prepare the whipped cream: start by mixing the mascarpone cheese with some sugar until it's smooth
Add in your whipping cream. Mix it until it starts forming soft peaks then refrigerate
Once the sponge is ready, take it out of the oven, leave the sponge to rest upside down. remove the baking paper
While the sponge is still warm gently roll it so that it's easier to roll with the cream later on and to avoid the surface from cracking
Cut the sides: for the sides that are going to touch each other, I like to cut one of the sides at a 45 degrees angle to that it overlaps nicely

 

Once the sponge has cooled completely, spread the whipped cream onto the surface of the sponge
Place the sponge on top of a baking paper sheet and roll it as tightly as possible
Refrigerate for at least an hour so that the roll can set. Once ready, slice and decorate
Enjoy!