Being unable to visit my favourite Taiwanese fried chicken joint during lockdown, I decided to recreate some at home with ingredients found in my pantry and it sure hit the spot! Key to a bubbly crispy exterior is to use tapioca powder for the batter and to double fry it. Sharing with you all this Taiwanese inspired fried chicken baos recipe to try at home below.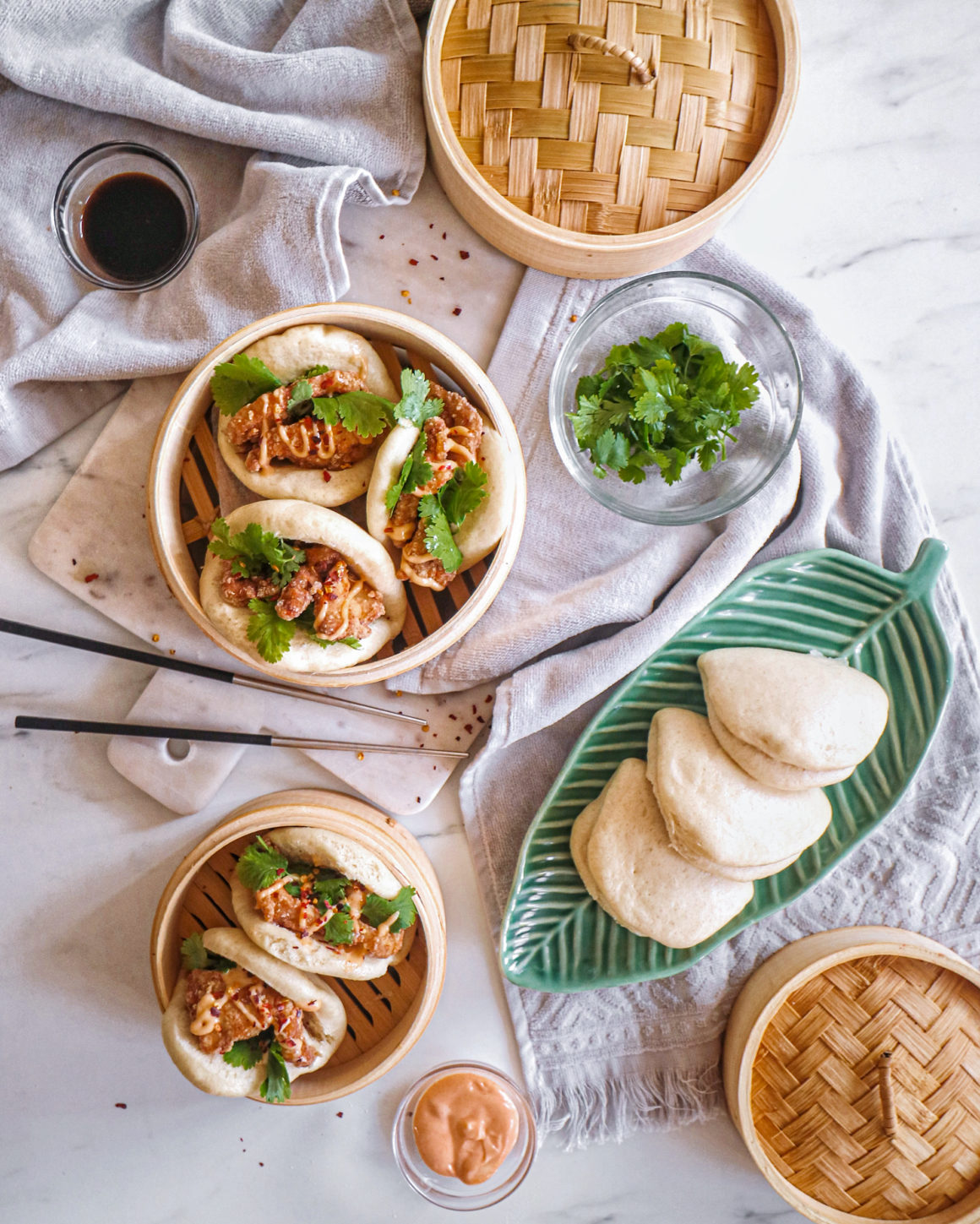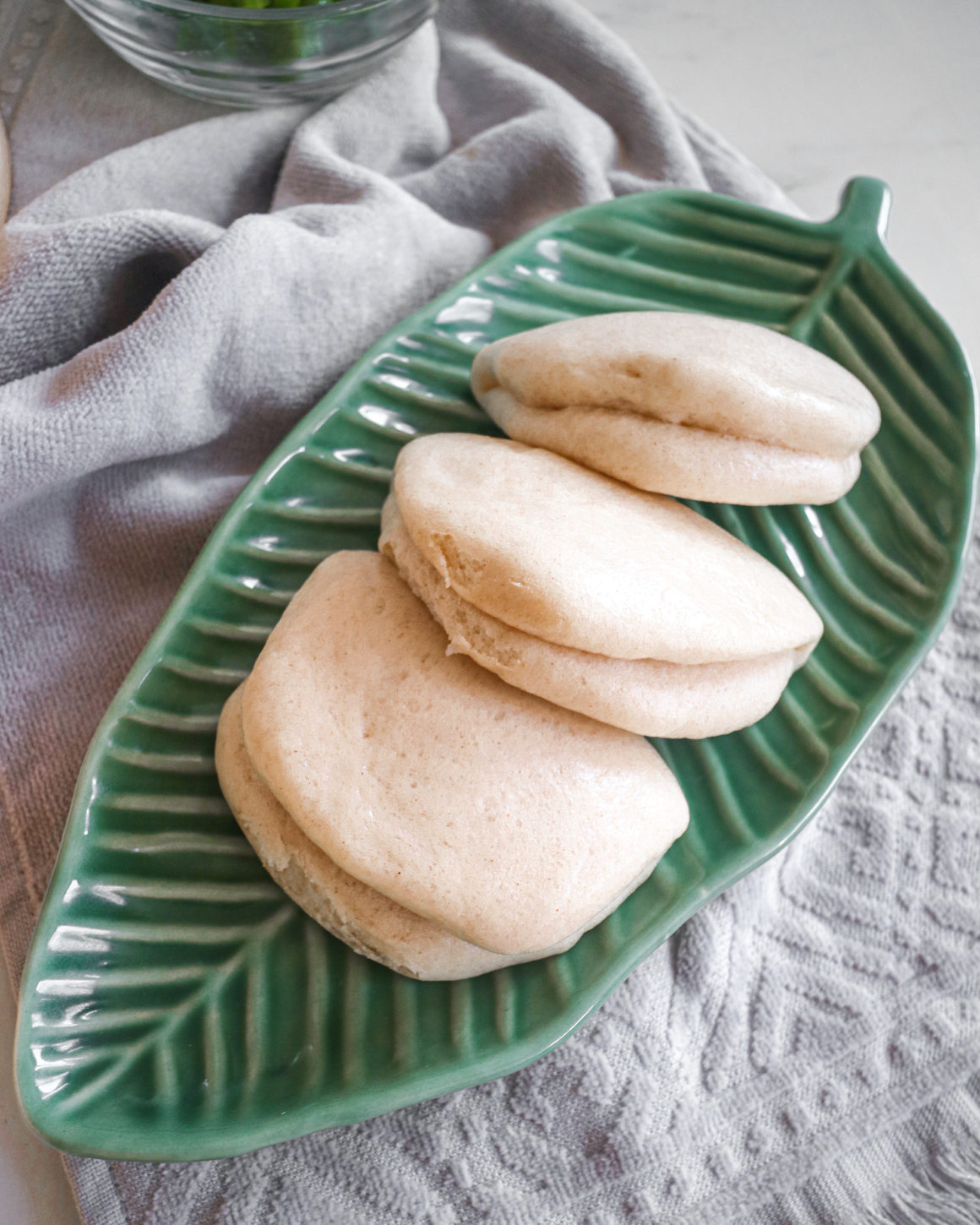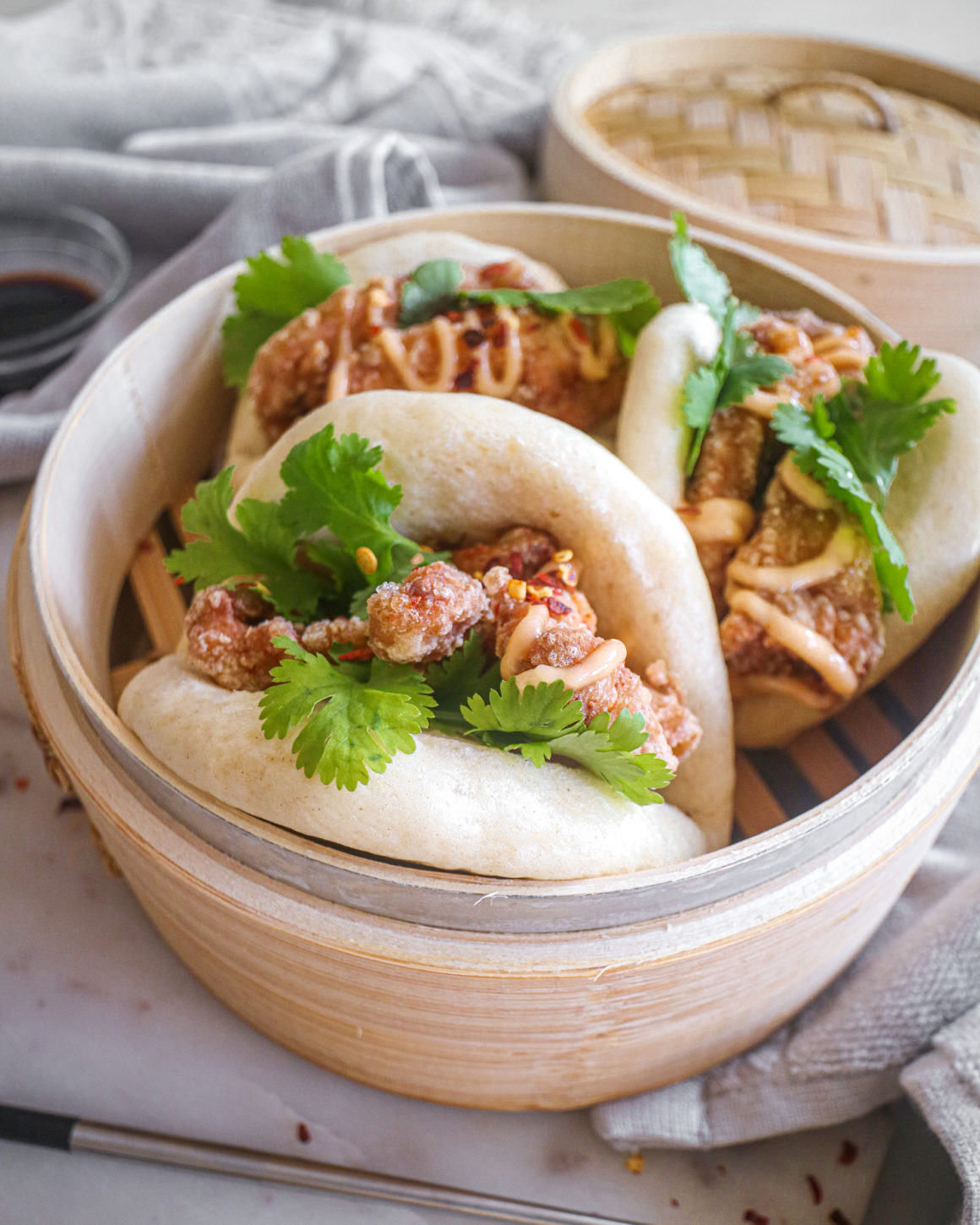 Print
Taiwanese Inspired Fried Chicken Bao
Fried Chicken
500g

Chicken breast or thigh

10 g

Grated ginger

1 tsp

Chinese Five Spice

1 tsp

paprika powder

1 tsp

garlic powder

1 tsp

salt

1/2 tbsp

soy sauce

1/2 tbsp

Shaoxing cooking wine

200 g

tapioca flour (approx)
Cooking oil for deep frying
Baos 
250 g

plain flour

125

ml milk

7 g

yeast

1/2 tsp

salt

1/2 tbsp

sugar

1 tbsp

vegetable oil 
Garnishes 
Sriracha Mayo (Mix mayo with Sriracha chilli sauce)
Coriander
Chilli powder
Chilli flakes
Pepper
Instructions
Fried Chicken:
Slice the chicken in to chunks
In a large bowl, add all the ingredients except the tapioca flour and mix well
Leave the chicken to marinade for 15 minutes
Add the tapioca flour into a bowl and dip the chicken pieces one by one until they are well covered
Preheat the pan and add enough oil for deep frying. Once the oil is hot start deep frying the chicken
If you want it to be extra crunchy, remove the chicken halfway (when light brown) and fry it again until golden.
Right after you remove the chicken from the oil, add any additional condiments that you like (e.g. pepper, chilli powder, plum powder, seaweed, etc.) and mix it
Bao
Mix all the ingredients together until it's well combined and you get a smooth elastic soft dough. I used my KitchenAid stand mixer with a dough hook and mix it for about 15 minutes on low speed until it forms a smooth consistent dough ball. You can do this by hand but it may take a bit longer. 
Form a dough ball and leave it to rest in a large bowl covered by a damp cloth in a warm environment to rise for 1 hour (I like to leave it in the unheated oven)
Once the dough has risen to about 1.5-2 times it's original size, kneed the dough until returns to the original size and is smooth again
Divide the dough into portions (approx 8 pieces)
Roll the portions into small dough balls and using a rolling pin, kneed the dough into small oval shapes
Using a tiny bit of oil, brush the middle of the oval and fold it in the middle
Preheat the steamer and place the baos in the steamer to cook for 15 mins
Once done, assemble the baos and garnish with your choice of toppings – Enjoy!