One of my proudest cooking achievement this year is probably learning how to make dumplings from scratch. If you have some spare time during the holidays, this is definitely something fun to pick up. Here are a few things I learned from obsessively folding dumplings almost every week during lockdown:
You can get super creative with the filling. I usually use a combination of minced meat, soy sauce, grated ginger, sesame oil, Shaoxing wine, salt, pepper, green onion, some sort of leafy green (Chinese cabbage, leek, spinach,…)
The choice of flour really makes a difference. Contrary to cake baking, where you don't want to overdevelop your gluten and make the cake tough, for dumplings you really need a high gluten flour that allows the dough to become super supple and elastic. Look out for some 'dumpling flour' specifically next time you visit an Asian grocery store.
I always use a 2:1 flour to water ratio for the dough. I also use my KitchenAid mixer with dough hook attachment to save me a lot of time
If you're extra lazy, here's a tip: get a pasta maker and roll out the dough then use a cookie cutter to cut out the wrappers!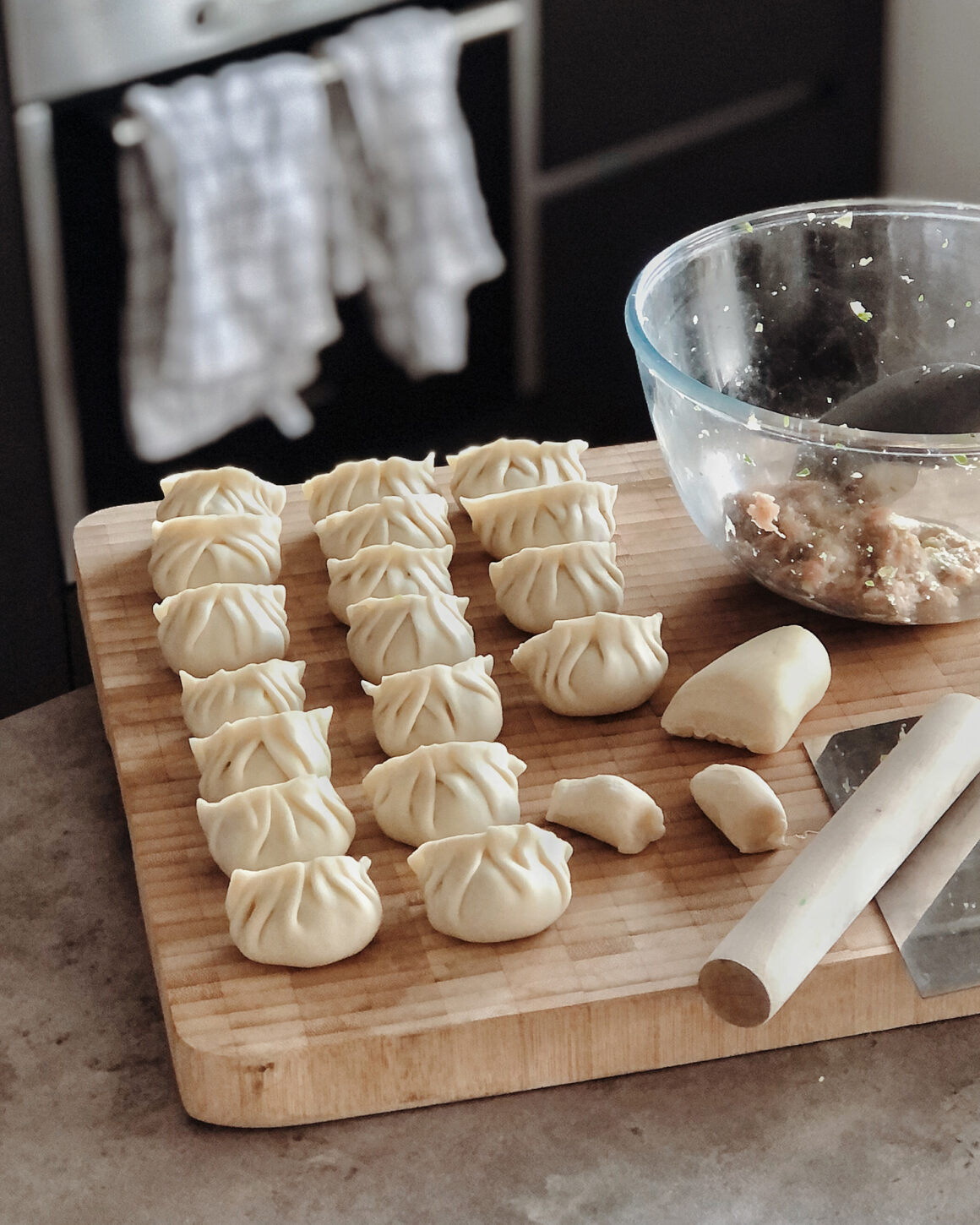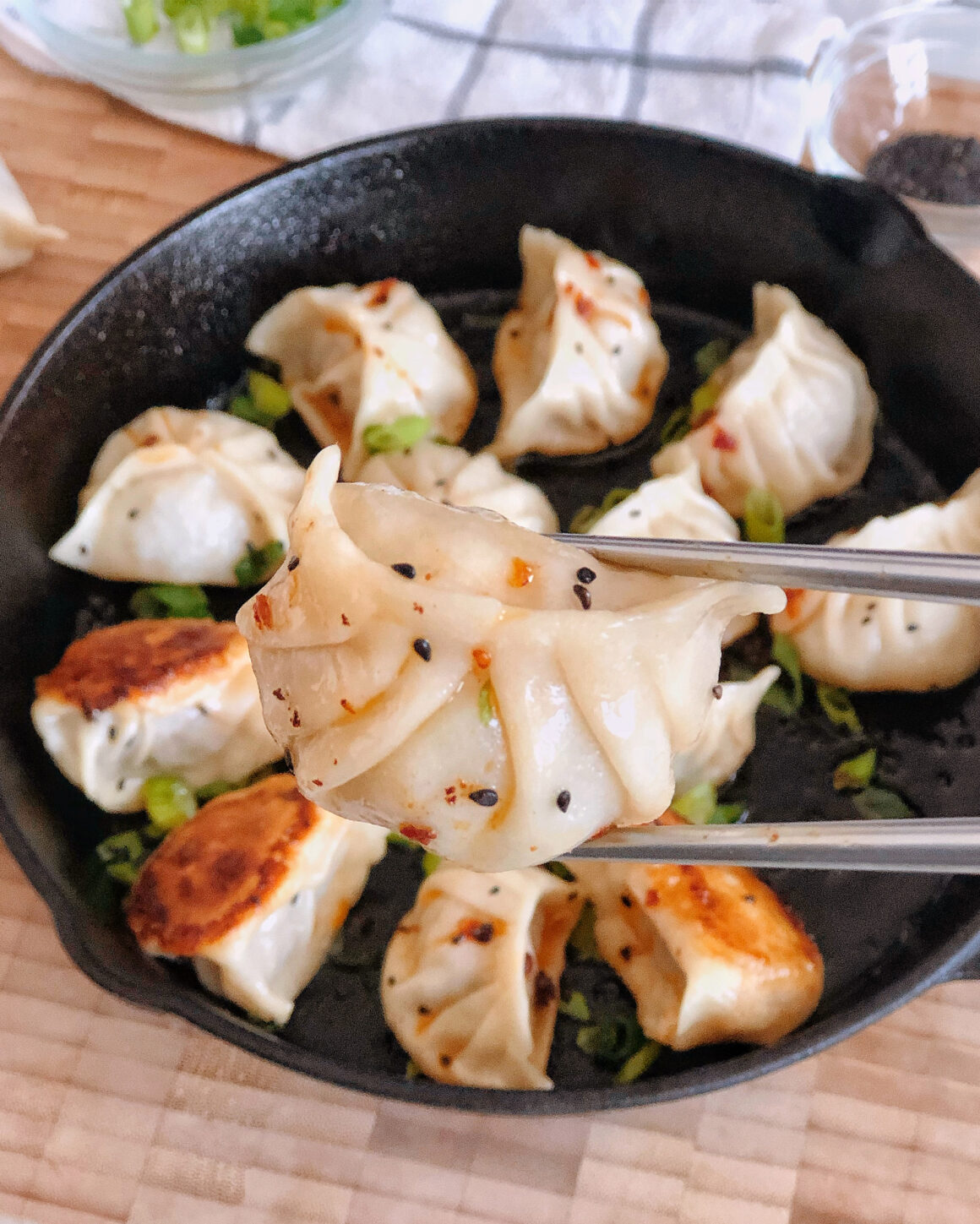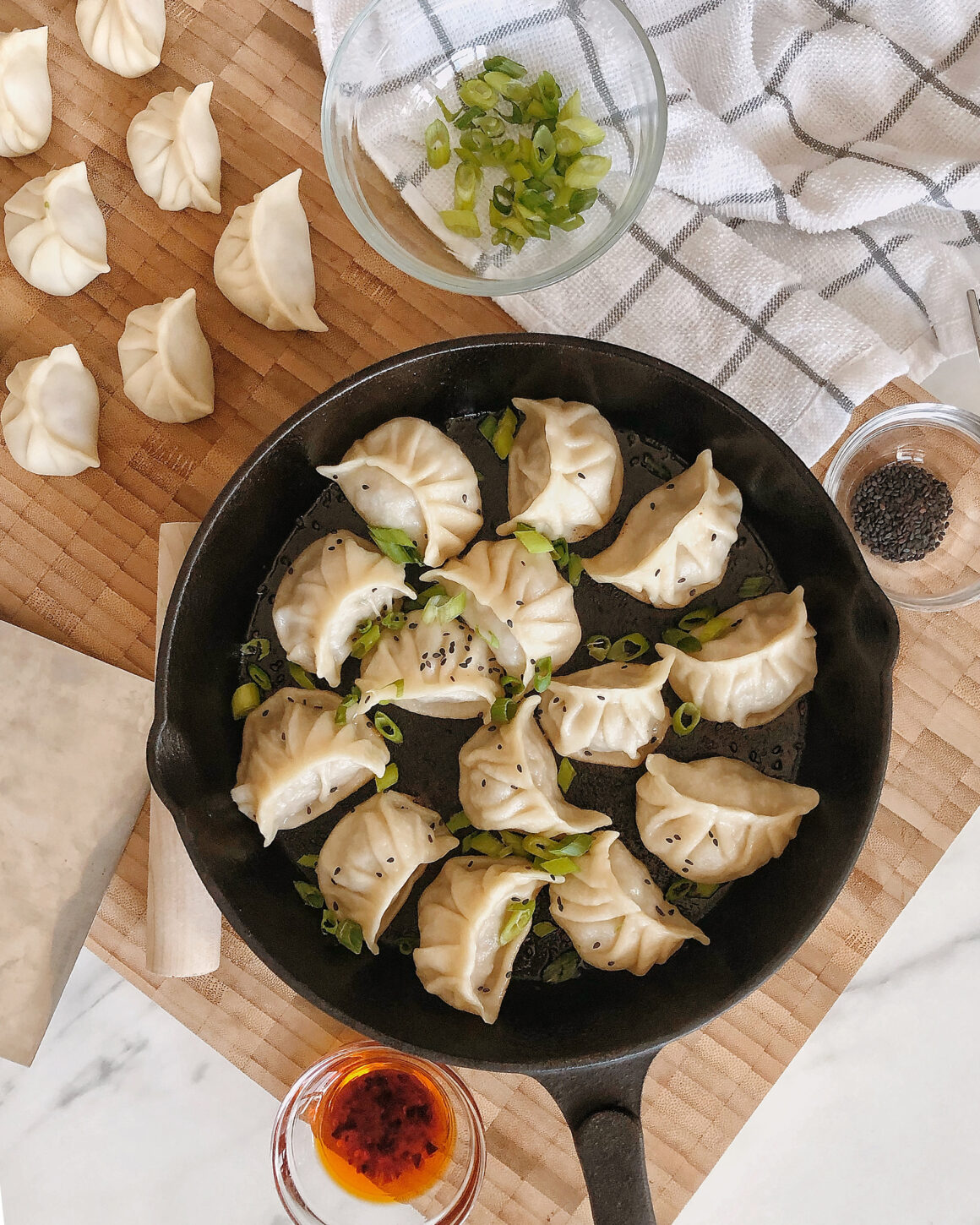 Print
Pork & cabbage pan-fried dumplings
Author:

Yield:

25

dumplings

1

x
Description
Simple recipe for some home made pan fried pork and cabbage dumplings!
---
Scale
Ingredients
Recipe makes about 25 dumplings
Wrapper
200

g dumpling flour (high gluten)

100

ml water (lukewarm)

1

pinch of salt
Filling
200

g pork mince (20% fat)

50

g cabbage (sweetheart cabbage)

2 tsp

grated ginger

1 tbsp

green onion 

1 tsp

salt

2 tbsp

soy sauce

1 tsp

Shaoxing Wine

1 tsp

mirin

2 tsp

sesame oil
---
Instructions
Prepare the dough by mixing the flour, salt and water until you get a smooth and elastic dough. I usually use the stand mixer and let it run for about 8 minutes until the dough becomes smooth and uniform. The dough should not feel sticky. Once done, wrap and leave it to rest for about 15-30 minutes.
Meanwhile, prepare the filling: mix together the pork mince, finely chopped cabbage and green onion (I usually just put these in the food processor and blitz them quickly) with all the condiments listed. Mix until you get a smooth uniform paste.
Roll the dough into a tube shape and cut into small 2cm x 1cm blocks of dough 
Roll out the dough using a rolling pin into thin circles of about 1mm thickness and 10cm wide in diameter
Fold the dumpling: add about 2 tsp of filling into the centre of the wrapper 
Heat up a pan (make sure you have a lid that fits) and add about 2 tbsp oil
Once hot, place the dumplings on the pan and fry for about 2-3 minutes until the bottom start to brown
Pour 1 cup of water and close the lid. Cook for 8 minutes
Remove the lid and cook for about 30 more second or until any remaining liquid evaporates.
Serve with your favourite dipping sauce and garnishes: I would suggest chilli oil, sesame seeds, green onions, or a mix of soy sauce with a bit of vinegar. 
---